How cool is it that one of my favorite sites links to a place in the universe I know a lot about! For more info on Vicksburg, see my other site:
www.gensearcher.com/vicksburg/today.html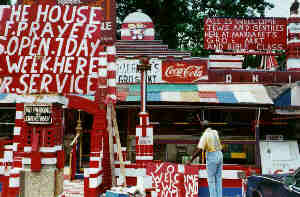 If you take the cutoff from Highway 61 into Vicksburg, Miss., and have need of 1. sundries, 2. spiritual uplift or 3. a powerful folk-art environment, stop at Margaret's Groceries. The Rev. H.D. Dennis, who has encased the country store inside and out with his sculpture and fantastic architecture, will preach you a personal sermon while his wife Margaret stands ready to meet your earthly needs.
ALSO: Roadside Art Online . . . The best store names ever . . . Art on every corner. . . Eccentric environments. . . Great signs . . . Your guide to semitrailers . . . 250+ outsider art links . . . Ominous needlepoint
Link found at Undernews
>>
Full story
...